In-line Modular Punching
and Cutting Machines for plastic profiles
PBC: PunzoBlockCut for Roller Shutters
For the PVC roller shutter industry we have designed and manufactured this compact machine, which is equipped with three modular units to punch, interlock and cut roller shutter profiles.
Our current PunzoBlockCut represents the technological evolution of our previous unit which we have already sold with success all over the world and meets the increasing demand of the leading industry of this sector for production plant flexibility and profile changeover time optimization.
It incorporates our latest project solutions, among which is our patented guillotine cutting unit and the interlocking unit with the notch or the pin system.
Both single and dual strand versions can easily be integrated into existing extrusion lines and also completed at a later stage with our assembly units, to obtain a complete automatic Combiroll-type roller shutter machine.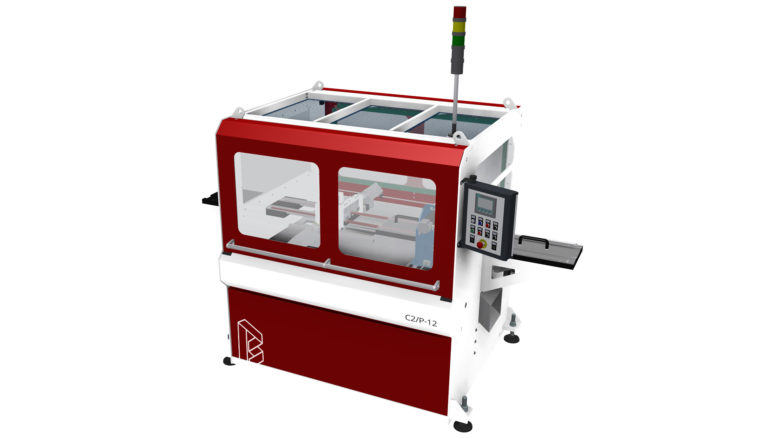 Moreover, the PunzoBlockCut is also available in a pneumatic version for a process speed up 6 m/min and in the version with brushless motors for a speed up to 12 m/min.
PC: PunzoCut for the Automotive Industry and Technical Profiles
This compact machine has been specifically designed to punch and cut co-extruded technical profiles at a high extrusion speed.
In order to guarantee the process reliability required by this specific market in terms of speed, precision and quality, the machine is equipped with an external photocell support frame and a special servo-aided haul-off, to feed the profile intermittently without damaging the profile surface, but at the same time with high process precision thanks to the brushless motor.
Punching and cutting tool sets are made of a special steel adequately treated to guarantee a long life.
Available for in-line or off-line application. In the second case, the machine is provided with a feed-in table and a pull-out unit.
The soundproof cabin guarantees low noise levels and reduction of acoustic emissions for a safe and healthy workplace.
Contact us to request information