Archive year 2014
12 December 2014
Take a look at the photogallery of Baruffaldi – Primac latest participations to the most important exhibitions for plastic extrusion […]
17 November 2014
  PMI Day is an initiative promoted by Confidustria association during which the small-medium companies open their factories doors to […]
15 September 2014
  In a country in which understanding between the exporting companies can seem really rather difficult and where joint ventures […]
8 August 2014
The business activity of North Italian Plastic Technology network, which, thanks to the shared resources and intents of three important […]
16 July 2014
On Friday the 27th of June 2014 Baruffaldi, Primac and Dosi staff had a great summer party at Romagnola Bio.  […]
10 June 2014
From among the latest machines in the Primac range, Baruffaldi presents a calibration tank for PVC/PP/PE pipes specifically developed for […]
18 May 2014
Our friends from  Kazakistan will like to see the Astana Team photos!  
18 May 2014
We welcome the grateful Assocomaplast delegation of plastic manifecturers from Azerbaijan and Kazakhstan. They have shown  a great interest in […]
20 March 2014
Alberto Dosi is the testimonial for his experience to implement a Network of Companies that he manage to sell the […]
12 March 2014
With just one machine everything is possible! Successful solutions made in Italy by Baruffaldi! A special hot blade guillotine, the […]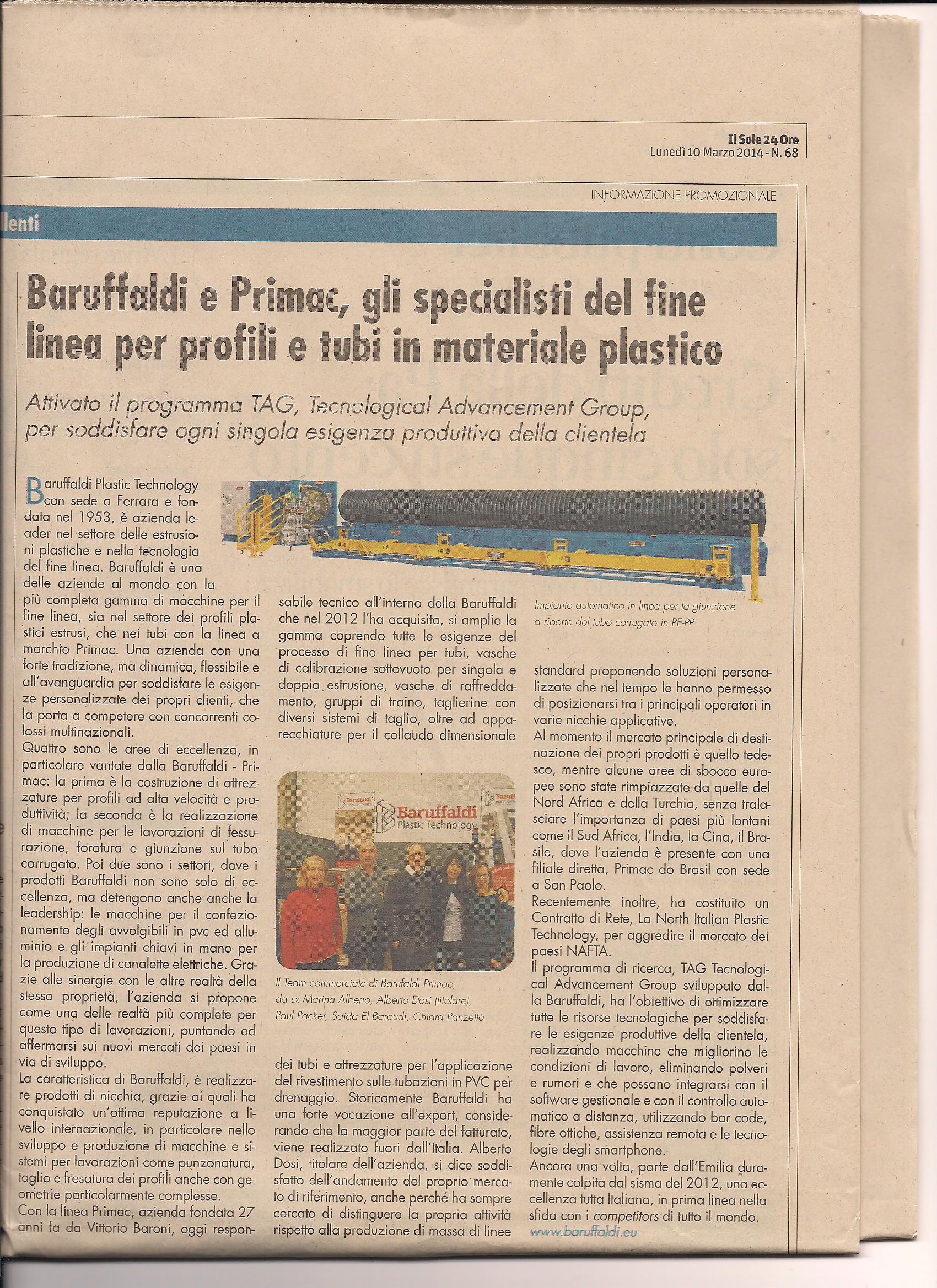 10 March 2014
 …and you can read it on-line! http://websystem.ilsole24ore.com/minisiti/2014/bside/100314_NAZ_costruttori_di_macchine_per_materie_plastiche_e_gomma/interna.html
Targeting
I cookie di targeting sono cookie impostati da terze parti come YouTube, Facebook, Twitter.

Questi cookie tengono traccia del tuo comportamento come la riproduzione di video o quali tweet hai già visualizzato.

Se non viene dato il consenso a questi cookie, non sarà possibile guardare i video su questo sito web o utilizzare la funzionalità di condivisione sui social.

Questi cookie possono essere utilizzati dal fornitore di cookie per creare un profilo dei tuoi interessi e mostrarti pubblicità pertinenti su altri siti. Non memorizzano direttamente informazioni personali, ma si basano sull'identificazione univoca del browser e del dispositivo Internet.